Dining Options at Grecotels nearby

Guests at the Caramel may choose to dine at any of the Grecotel hotels' restaurants at Grecotel Creta Palace, The White Palace or Grecotel Amirandes.

THE HOT LIST RESTAURANTS

Grecotel's Top Places in Crete



Voted BEST ORGANIC RESTAURANT by Vanity Fair. Don't Miss the Agreco Farm culinary experience, tasting diverse seasonal dishes based on the fruits of the land and the legendary nutritional Cretan cuisine.


Reservations: +30 28310 72129



Savour the Catch of the day at Barbarossa a la carte Fish restaurant - Creta Palaces' hip seafront restaurant.


Reservations: +30 28310 55181

A brand new restaurant which reaches for the stars. Chic rooftop bar & restaurant with eclectic finger food. Designer cocktails complement a contemporary approach to culinary classics.


Reservations: +30 28310 55181

Discover trendy Asian cuisine, passionate in red and stylishly exciting. Serving oriental delicacies cooked to order, Golden Dragon features modern twists on Eastern favourites.


Reservations: +30 28310 55181



A unique restaurant concept serving "menu degustation" from France, Italy and Greece prepared by masters.


Reservations: +30 28310 71102


Pablo Picasso drew himself as a Minotaur, the mythical half-man half-Taurus (bull) creature that lived in the Labyrinth of the palace of Knossos. An amazing collection of genuine Picasso ceramics adorns the unique Minotaur gourmet restaurant.


Reservations: +30 28970 41103



Call Us +30 28310 71803
#CARAMEL IN-ROOM DINING
Choose from an extensive menu, day or night, from a light bite to a romantic dinner under the stars...
Special Room service menu available.
---
KIDS DINING TIPS
FREE KIDS DINING
-
TASTY CORNER
From morning to evening, mini buffets offer a constant supply of fresh, tempting food and drinks exclusively for kids.
READ MORE
- KIDS' MENUS
Designed in conjunction by our chefs & dietician to tempt all juniors whilst making sure they get all the nutrients they need for an active holiday. Available in the Gourmet a la carte Restaurant & Confetti Pool Lounges.
---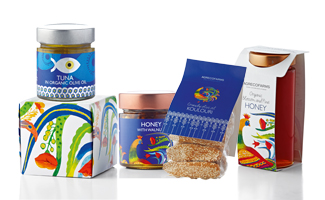 THE PRODUCTS | AGRECO FARM
TASTE OF CRETE
Take home farm-produced products including organic olive oil, wine, olives, honey herbs and the new range of fragrances & body care products Eau de Grèce. Available at the hotel's Agreco corner.
---