Panther Piano Bar
Impressive lounges and terraces with stunning pool views provide the perfect setting to relax and enjoy your favourite cocktails, delicious coffees and local herbal teas. When the deep red sun sets into the vast blue of the Cretan Sea, you will witness the most spectacular sunset.
DRESS CODE:
Evening: Elegant casual attire. No beachwear or shorts in the evening. Gentlemen – long trousers and shirts with sleeves (short or long) in all restaurants & bars.




Live Music
Enjoy your drink or cocktail with the views of the lightened confetti pool, drifting along to the serenades of the live evening music.
NOTE:
Please inform the hotel staff in advance of any allergies or intolerances you may have. Our menu might contain traces of allergenic substances.
Call Us +30 28310 71803
#CARAMEL IN-ROOM DINING
Choose from an extensive menu, day or night, from a light bite to a romantic dinner under the stars... Special Room service menu available.
---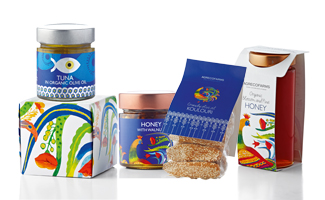 THE PRODUCTS | AGRECO FARM
TASTE OF CRETE
Discover this small continent's gastronomic secrets: long-fin white tuna caught off the coast of Rethymno and packed in organic olive oil; organic blossom honey and organic pine honey; Cretan melokarydo (honey & walnuts) for longevity and good health; ladokoulouro, sesame-encrusted cookies made with olive oil - the typical Cretan biscuit.
---
DINING OPTIONS: THE HOT LIST RESTAURANTS
Reservé in Crete
Are you a... FOOD fanatic?
Caramel suggests>
---
also check
Confetti Pool Lounges